The Honaunau Farm 'Ohana is a diverse collective of individuals who have contributed to the vision and daily mission of the farm as a regenerative living model and retreat.
Steve has been a leading voice in the community with his passion for permaculture and regenerative agriculture.
Rachel Matias brings an open heart and a welcoming smile to the farm, greeting guests from all around the world to share the fruits of the farm.
Melinda has been a strong lead in supporting community wellness, guest infrastructure, retreat programs, and networking with other hubs.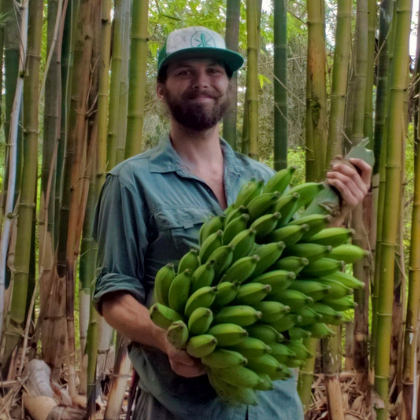 Jesse brings a bright smile, a wealth of agricultural know how, and a grounded infectious enthusiasm to the land at Honaunau Farm.
Dana Marie Mitchell, a founding member, has brought her passion for food, hospitality, and farm-to-table chef skills to the community.
More farm folks coming this fall!
Community from a Distance
(PAST RESIDENTS, STUDENTS, CARETAKERS, ARTISANS)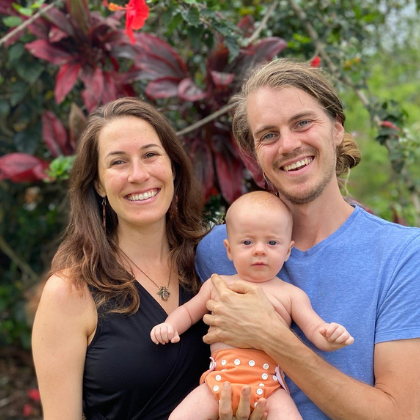 Alison and Michael were brought to Honaunau Farm by beautiful synchronicity, an answer to inquiry and prayer about where they would bring their son, Ember, into the world. Gracefully and graciously he was born in their tiny farm cabin on a peaceful new moon night in January 2022. Together they embrace community life as a foundation and nest in which to raise their little one. Ember spends his days walking-in-loving-arms through the macadamia nut trees, smelling gardenia blossoms, giggling at the many faces that wander through his farm-based awareness, and learning and growing with every interaction within the web of life.
After growing up in Southern California, in her early adulthood, a desire to find a more fulfilling way of being alive led her to explore many diverse communities and more communal ways of organizing one's life. From a contemplative spiritual community in rural France, to a homestead/natural building education center in Southern Oregon, to Amma's ashram in Southern India, Alison has chosen to devote her energies to connection and healing. She loves to uplift the well-being of those near to her through meal sharing, event organizing, abundance management, and meaningful connection. A massage therapist of nearly 10 years, she loves to set aside the spoken word and bring soothing touch and caring presence to the bodies, minds and spirits of friends and clients. Alison's love of gathering together for upliftment and connection has led her to the community sInging (Singing Alive) community in Oregon, from which she draws inspiration to lead bi-weekly song circles on the Farm. The newest chapter of Alison's life as a mother invites ever-new levels and layers of healing, connection and listening, as she and her husband Michael strive to raise their son Ember with the utmost care and attentiveness.
Michael considers himself a playful participant in the web of life. Through his years walking the Earth, he has fit in a number of widely different roles. From Texas-based truck driver, to self-driving car tester and operator, to roaming laughter yoga teacher, to massage and craniosacral therapist, to his current practice as farm-working family man. Michael has a passion for music and movement, having curated and facilitated an ecstatic dance in Northwest Arkansas for over two years, as well as DJed for a number of events across Arkansas, Texas, and Oregon. Whatever the occasion, Michael loves to share his joy through heady systems thinking conversations, unconditional belly laughter, coming together in cuddle puddles or contact improv swirls, and always seeking understanding through every arising phenomena.
Shimyrre came to the farm to explore living a more healthy lifestyle, to expand her knowledge of growing medicinal plants, and to cultivate connections and community. She has a love for getting people excited about plant medicine. After receiving her degree as a Holistic Health Practitioner at Southwest Institute of Healing Arts, she worked alongside Naturopathic physicians and wellness consultants in a variety of settings. She has since found her niche in medicine making and guiding others to make more educated choices in incorporating botanicals into their lifestyle. Shimyrre is now based in Phoenix, AZ, and holds a special place on the farm as a past Head Herbalist and Director of Product for Mana Artisan Botanics.
​Ashley and Jeremiah moved to Hawaii and Hoanunau Farm from New York to further their knowledge and experience in permaculture, wilderness survival and eco-villages. Both having a passion for helping people become resilient, responsible for themselves and the environment, Permaculture was the perfect match. Ashley and Jeremiah completed a Permaculture Design Course in 2017. They strive to have a farm/eco-village one day where they can help strengthen their community and beyond, by demonstrating to people that they can survive economically via non-traditional means. They would like to spend more time traveling to learn more about plant medicine and farming techniques from other cultures.
Silvana is thrilled to be part of the Honaunau Farm community. She has worked in the health & wellness field for over 20 years. She holds BAs in Physical Education and in Psychology and certificates in Massage Therapy and Personal Training. Originally from Brazil, she lived in the Bay area, CA for 17 years before moving to Hawaii. One of her main pursuits in life has been cultivating self-awareness and greater understanding about the connection between our general health and our mental, emotional and energetic states.
Zaianna was drawn to Honaunau Farm by her strong pull to visit Hawaii. As a full time traveler for two years in Asia, Zaianna was a volunteer and member of several intentional communities centered around principles of permaculture and eastern spiritual philosophies including her time spent at The Mindfulness Project, a community organized within a buddhist monastery. She completed a permaculture design course (PDC) at Panya Project in northern Thailand as well.
Greg and Heather came to Hawaii from the northeast hoping to escape the cold, grey winters and to deepen their understanding of Permaculture and Regenerative Living. They bring much agricultural experience to the farm, having worked with the soil in a variety of places including North Carolina, New Mexico, St. Croix, and Belize. They even met on Farmersonly.com! Both are also massage therapists and enjoy nourishing the body as much as nourishing the land. "We are feeling deeply grateful for the abundant opportunity Hawaii and Honaunau Farm have offered us, as we witness our dreams becoming our reality. Aloha!"
Emily was Honaunau Farms retreat cocreater, yoga instructor and retreat chef.  She is a vibrant soul with a zest for life and a curious mind that loves engaging in creative projects!  She thrives in community and is cultivated deep connections with those around her on the farm and in the local community. 
Emily has been exploring organic farming and natural wellness for several years.  She had a very impactful and transformative time as an organic farming and medicinal herb intern at Innisfree Farm, on Vancouver Island in British Columbia.  From there she went on to become a certified yoga teacher and was a chef at a raw vegan eco retreat on the Big Island. 
Boris came to the farm to learn about sustainable living and community. Originally from Russia, Boris served with the US Air Force before attending the widely influential Creative Circus, an advertising/design portfolio school in Atlanta. Currently freelancing as a graphic designer (orangemonkey.co), his approach is centered on clarity and objectives-based construction. He has a love for all things sustainable, mobile, and highly functional and is often experimenting with building and woodworking. Boris believes that travel and exploration are amongst the best ways to learn about ourselves and enhance our ability to relate to one another, that's what being human is all about.
Jed and Leanna came to Honaunau Farm in the summer of 2015 from Austin Texas to work as caretakers. With intentions of setting down roots in Hawaii, they felt incredibly blessed to have landed on such an amazing farm and into a thriving and loving community.  Jed and Leanna are both passionate about sustainability and preserving the land and its resources for the next generations. Living close to nature was a big draw for them in their move to Hawaii – a land rich in food, medicine, and beauty.  Jed is an adventure seeker who loves to swim and run, keep bees, climb coconut trees, fix and create things. Leanna is passionate about holistic natural medicine, education and empowerment for youth, cooking delicious meals, and connecting with the hearts of others. Both Jed and Leanna are Certified Medical Biomagnetism Practitioners.
Teo is an eclectic artist, builder, gardener, stoneworker, and instructor using natural materials.  He has studied with master artisans from around the world.  He designs and builds structures and creates spaces that are in synergy with nature and promote life and beauty.  Teo did an artisan exchange on the farm, consulting on future designs and building an organic lava rock wall in front of the Community house.
Hannah was an intern and then renter on the farm.  She was born in upstate NY and moved to the Big Island several years ago.  Since arriving she has flourished and catalyzed her photography business.  Since the creation of Hannah C's Photography's, her love of photography has only grown as she learns more about different techniques and styles, as well as more about herself. Something she continues to notice that sets her a part from other photographers is her ability to find the interesting in what most would find ordinary. She has an eye for beauty and composition that most people would just pass by.
Hannah's time on the farm was one she will never forget. Her photography continued to be nourished as she had endless photo ops while she milked the goats and sheep, tended the garden, and pulled more weeds than she cares to remember 🙂 the farm work is never done!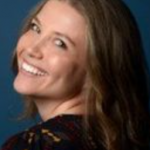 Jessica Naudziunas is a video journalist who currently lives in New York and works for ABC News as the Head of Digital Video for Good Morning America. She spent the summer of 2012 on the farm after two years as an agricultural journalist on the Mainland's Midwest. She wanted to test the theories, stories, and lessons she learned as an ag reporter, in addition to practicing vegetarianism on a working farm. The time on the farm was transformative for Jessica, and she will always remember bonding with the goats and caring for the other beautiful animals on the farm.
Theresa moved onto the farm with her family with hopes of helping grow the community.  On the farm she assisted with office work and management of interns as well as caring for guests and other community members. She thrives in community and works to promote more connection and growth through cooking meals and hosting gatherings.  She studied History and Religious Studies in depth throughout her collegiate education in order to gain a broader understanding of people and cultures so that she can more deeply engage with others.
Tony helped oversea and tend the farm and animals.  He is a plant ecologist from UC Santa Cruz where he focused in agroecology, natural history, land stewardship and community living. He has worked as a core leader in the Kresge Garden Coop, an intern with the Chadwick Garden, a farm hand at Hale Akua, and a member in several intentional communities. As an ecologist, his land management centers around soil building and biomimicry.
He has a deep love of plants and growing and sharing food.  He is a naturalist who is very at home in nature and living close to the land.  He is a lover of community and enjoys exploring the abundance that island life has to offer with friends, community members and travelers.
Peij and Chauntelle are from upstate New York and Alabama and interned on the farm for 6 months. Both having interests in sustainable agriculture and gardening.  They met at a permaculture design course and decided to further their education by moving to Hawaii and exchanging on the farm. They are both travelers and adventures passionate about improving the soil wherever they go. Their interests include mycology mulching herbalism and edible land design.
Anjani is a vibrational health practitioner. She is a body therapist and offers specialized body therapy and healings. She shares various modalities including Chi Nei Tsang, Karsai, Jin Shin Jyutsu Acupressure, Hawaiian Lomilomi, Hawaiian Breathwork, A'e and Thai Massage. These forms are deeply corrective and therapeutic. She works intuitively and integratively. Over the past 15 years, She has taken many classes and is honored and humbled to share the lineages that have been passed down to her, with you.
Sasha is a talented cook, herbalist, wildcrafter, medicine woman and mother.  She has lived on Hawaii for the last 8 years working on several farms, growing food and cooking for several communities.  She is a retreat chef and loves growing, harvesting, preparing and using herbal medicines.  Her beautiful and sassy daughter Olena was a bright light on the farm and in the larger community.  She is curious, talkative, creative and silly.  She loved playing with the ducks and baby goats and just tagging along for any farm adventures.
Susie is a licensed master esthetician and that brings 15 years of organic and vegan skincare training to Hawaii. She creates farm fresh skincare products and facials that are tailored and created fresh for each client using herbs, fruits, and veggies from the garden. Her joy and passion is creating a relaxing one of a kind experience that clients never forget. She is also a vegan chef and holistic health counselor.
Stephen is a self trained chef, and was blessed to work at The Curious Palate a farm-to-table kitchen in LA where they pursued the muse of curious food with only the most delicious, fresh, seasonal and organic ingredients sourced from local, year-round farmer's.  He was one of the resident chef's on the farm and worked at Holuakoa, a local award winning slow food movement restaurant sourcing only local meats.  Stephen raised ducks and chickens as part of the Holuakoa supply here on the farm.
Frank, Julien, and Shivanii came to the farm from Colorado to live a more holistic life in supportive community.  They love spending time together. They enjoy time with friends and family sharing good food and experiences. A healthy relationship with nature is extremely important to them, as well as a life filled with exploration, creativity and play.
Gaberiella & Matias came to the farm to learn about sustainable community living from Argentina.  They brought so much fun, creativity, beauty and depth to the farm, sharing their passion for life, friends and cooking!  They have gone on to do work exchanges at other farms and are now creating their own eco-retreat on the coast in Argentina!
Nick and Cate joined us from Washington State as part of an extended year long honeymoon adventure.  They came to learn about permaculture and sustainable living practices.  Nick and Cate brought so much thoughtfulness, hard work and positive energy to the farm.  After their 4 month stay, they went on to travel in South East Asia and to caretake other farms.
Caleb and Ankea moved to the farm while pregnant with Arun.  They had a home birth on the farm and blessed us all.  Ankea and Caleb are world travelers with incredible visions and vibrant energy.  Caleb is from the Big Island and has a knack for marketing.  He is a Thai massage therapist and instructor as well as a mentor for men's groups.  Ankea works in the NGO world and has done projects in Vietnam and Cambodia.  She is a strong feminine role model, a wonderful mother and an excellent cook!
Claire and Darragh came to the farm as a young couple exploring the world from Ireland.  They expanded their horizons in many ways during their stay on the farm and have moved out into the world with new skills and a zest for holistic living.  They have gone on to do work exchanges at other farms and to share what they learned with friends and family back home.
Juan & India were a hardworking fun loving addition to the farm during their 6 month stay. India was an incredible cook and Juan a tireless helping hand. They had an amazing love for animals and showered all our furry four legged friends with so much warmth and care. John went on to work for an organic food company and India now shares her passion teaching kids.